Safeguarding
Administration of Medicines Policy
Administration of Medicines Policy- BDAT policy
Safeguarding and Child Protection
Our Child Protection Designated staff in school are:
Mrs Sarah Gibson
Head of School
Special Educational Needs and Disabilities Coordinator
Mrs Karen Howard
KS1 Lead, Maths Leader and Science Leader
Photographs of both members of staff are on display in the school reception area and around the building.
Designated teacher for looked after and previously looked after children
Mrs Karen Howard
Safeguarding
Safeguarding covers all aspects of keeping a child healthy and safe e.g. first aid, educational visits, behaviour, racism, internet safety, security, medical needs.
We have procedures in place to ensure that all our children are as happy, healthy and safe as possible. If you have any suggestions to improve any aspect of our school please let us know.
We acknowledge that safeguarding is everyone's responsibility and all of our staff are trained to be vigilant and aware of the signs and indicators of abuse.
The viewpoints and voice of pupils is of paramount importance to our school and we will always listen to their wishes, thoughts and feelings, as well as identifying and supporting their needs. We will work alongside pupils to develop trusting, consistent and professional relationships.
We use the early help process and, where possible, we will identify any difficulties or concerns early in order to act preventatively. We will always provide support and advice for families and parents/carers, whilst acting in the best interests of the pupil at all times. Safeguarding also includes ensuring we follow safe working practices and provide a secure learning environment for our pupils and staff.
We safeguard pupils by:
Securing the school premises:
We strive to keep the building as secure as possible for pupils and staff. After 9.00am the only access into school is via the main entrance, which is controlled by secure access.
The school also has a metal fence around the perimeter of the playground and C.C.T.V. is installed.
As we are responsible for the safety of children, we cannot allow your child to leave school during school hours unless you come to collect him/her. There is a signing out procedure at the school office for any pupil leaving school during the school day.
Parents Visiting School/Visitors
All visitors access the school building via the front, main security gate. Through the intercom system the office or a member of staff will then allow you access through the gate. You must then report to Reception. All visitors are recorded and monitored.
Parents are frequently invited to attend events in school and are welcome to attend worship on Friday morning when we celebrate our pupils' achievements both in school and at home.
For some events, such as Christmas performances and end of year productions, parents may be invited to book tickets (usually 2 per family), a member of staff will always be at the door to greet you.
To ensure the safety of everyone in school and so that we know who is on site, we ask that you do not enter school through cloakroom doors or via the Breakfast Club door. Parents and carers are requested to sign in at the school office when visiting school. If you would like to meet with your child's teacher, please make an appointment beforehand.
Recruitment/Training
We ensure that safer recruitment practices are followed to prevent those who pose a risk to children gaining access to our pupils. All staff employed by the academy have received Disclosure and Barring Service (DBS) clearance which is recorded in the Single Central Record. We provide regular training and briefings for all staff in child protection and ensure hat all staff, pupils and visitors know who our designated child protection officers and designated senior lead are.
Admissions/Attendance
Admissions and attendance procedures are robust to protect pupils, ensure that they are safe and prevent pupils from going missing from education.
E- Safety
We make certain that pupils understand the importance of e-safety both at the academy and at home. All internet traffic is filtered and monitored into the academy to ensure that pupils cannot be exposed to harmful material and communication.
Concerns/Action
We will make sure that all pupils understand the importance of disclosing concerns about themselves and peers, and giving them the confidence to discuss sensitive issues. Ensure pupils are supported in having access to guidance and advice, and when needed referrals for additional agency support to meet their needs. The academy will share information with other agencies and services to ensure that pupils, children and their families have support to meet their needs and prevent children and pupils from harm. We will take immediate action and contact the appropriate agencies when we believe that a pupil or child is in danger or is at risk of harm.
Child Protection is part of Safeguarding
The Difference between Safeguarding and Child Protection

People sometimes wonder what the difference is between the terms safeguarding and child protection.
In practice, Safeguarding is the policies and practices that schools and Governing Bodies employ to keep children safe and promote their well-being. This means everything from security of the buildings, to the safe recruitment of staff and everything in between. This diagram sets out what Safeguarding means in schools: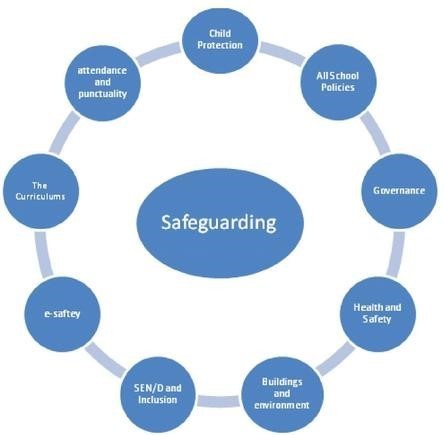 As you can see, Child Protection is one aspect of Safeguarding. Child Protection is a term used to describe the activity that is undertaken to protect specific children who are suffering or likely to suffer significant harm.
If anyone has any concerns in relation to child protection please contact Mrs Gibson or Mrs Howard. The governor responsible for Child Protection is Mr Gary Denison who visits school regularly. School telephone 01274 678385.
We aim to educate and empower children to increasingly take responsibility for their own health and safety.
If you or your child have any concerns about anything or need support you could:
Talk to your child's class teacher
Talk to Mrs Sarah Gibson (Special Educational Needs and Disabilities Coordinator)

Mrs Karen Howard (KS1 Lead, Maths Leader and Science Leader)

Contact Child line 0800 11 11
Contact NSPCC 0808 800 5000

This website has lots of useful information

http://www.nspcc.org.uk
GDPR
All GDPR and data protection information is stored under the Admin tab and data protection heading on the website.